Curriculum
At St Joseph's, with God's guidance, we love, learn, respect and forgive.
Curriculum Statement
The whole curriculum is everything which the child experiences during his/her time in school. It includes those aspects which are difficult to quantify; play, assemblies, social relationships, happy working atmosphere as well as the teaching and learning situations in class time.
In this school we aim to encourage the development of the whole person. We seek to make the curriculum appropriate to the child's interest and aspirations. We recognise the individual needs and abilities of each learner and we strive to support the development of intellectual, emotional, cultural, moral, spiritual, physical and social qualities.
Our school whilst delivering the statutory content of the National Curriculum, places a very creative thematic approach to learning. Our school Curriculum is challenging, exciting and enriching.
Our curriculum has been developed to create children who:
Are inspired learners.
Are good citizens.
Are independent thinkers.
Have enquiring minds.
Are great friends.
This is the philosophy of how we want to work and learn. These aims underpin all of the learning that takes place in our school.
At St Joseph's we use a range of resources to deliver an exciting and successful learning programme for our pupils. These include "Read, Write, Inc". for phonics, "The Oxford Reading Tree" reading scheme and The Wordsmith scheme, "Abacus" and "Assertive Mentoring" schemes for Maths and "Come and See" for Religious Education. We also use the" Cornerstones Curriculum" to teach foundation subjects.
As a whole school, we provide a creative curriculum based around the "Cornerstones Curriculum".
Read Write Inc.
Our school uses Read Write Inc. Phonics for our children in EYFS to Year 2 and for our children in Years 3 and 4 who need to catch up.
The four Read Write Inc. programmes are carefully matched to the new curriculum, giving your children the best chance of success in the national tests. They show teachers, teaching assistants and parents step-by-step how to teach all children to become fluent readers, confident speakers and willing writers.
Read Write Inc. Phonics is used by over a quarter of the UK's primary schools. It is a comprehensive literacy programme, weaving decoding, comprehension, writing and spelling together seamlessly. Ruth Miskin developed the programme during her time as a headteacher in Tower Hamlets. She believes that in order for a school to be successful, every headteacher needs to adopt a consistent whole-school approach to teaching reading, writing and spelling. Fidelity to the teaching programme, rigorous assessment, tracking and one-to-one tutoring ensure that schools guarantee progress for every child.
For information and tutorials on how to support your child learning to read go to: www.ruthmiskin.com/en/parents (external link).
What is the Cornerstones Curriculum?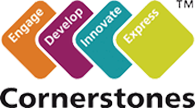 The Cornerstones Curriculum is a creative and thematic approach to learning that is mapped to the new 2014 Primary National Curriculum to ensure comprehensive coverage of national expectations. Our new curriculum will be delivered through Imaginative Learning Projects (ILPs) which will provide a rich menu of exciting and motivating learning activities that make creative links between all aspects of our children's learning.
We believe children learn better when they are encouraged to use their imagination and apply their learning to engaging contexts. Our curriculum provides lots of learning challenges throughout the academic year that will require children to solve problems, apply themselves creatively and express their knowledge and understanding effectively across the curriculum.
Cornerstones also provide a rigorous essential skills framework that outlines the end of year expectations in all subjects. These essential skills are tied to activities and are age related so that staff can track children's progress and identify their individual learning needs.
For more information please visit Cornerstones Education.
How it Works?
Children will progress through four distinct stages of learning in each ILP – Engage, Develop, Innovate and Express.
Engage
At the Engage Stage children will:
Start with a memorable first-hand experience
Begin observations, research and setting questions
Have lots of fun to fully engage with the new topic .
Develop spoken language skills.
Develop
At the Develop stage children will:
Improve knowledge and understanding of the new topic
Develop and practise their new skills
Explore, make, investigate, build and do
Follow new pathways of enquiry based on their interests.
Complete home based activities that support their learning.
Innovate
At the Innovate stage children will :
Apply skills, understanding and knowledge in real-life contexts
Solve real or imagined problems through their learning
Gain inspiration from creative activities
Express
At the Express stage children will:
Become performers, experts and informers
Link learning back to starting points
Evaluate their finished products and learning.
Share and celebrate achievements with a range of others.
The Imaginative Learning projects covered in each year group are illustrated in the whole school curriculum map.
To view further information on our curriculum please look at our school prospectus.
Curriculum Enhancement
The curriculum is enhanced by using visits and speakers whenever possible. Each year there is the opportunity for all children to enjoy a theatre experience and there are various sporting events which they attend. We endeavour to make as many links with the other schools in the Corpus Christi Catholic Academy Trust as possible through a variety of curriculum opportunities.
There are opportunities for the children to take responsibilities within their class and the whole school. Children have opportunities to be School Councillors, Young Leaders and School Chaplains.